Origins of Thai Massage
Thai massage has Buddhist roots and the earliest accounts date back some 2,000 years. Thai massage is a component of external branch of the 3 forms traditional Thai Medicine, the other two branches are internal and spiritual.
Description of Thai Massage
Thai massage employs a combination of stretching, deep tissue pressure, rhythmic compressions that follow the energy lines of the body and acupressure. Unlike many other modalities that have roots in a slow calm approach Thai massage involves stretching and increased mobility, think assisted or partner yoga where you are pushed and challenged to achieve a certain pose. True Thai massage also takes also takes place on a mat which is on the floor rather than a table. Not all will be ready for or enjoy a real Thai massage as it is very different from what most envision when they think of a massage.  
Benefits of Thai Massage
When compared to other forms of massage the main benefit of Thai in comparison to others is the increased mobility, flexibility and posture. However, like other forms of massage you will also benefit from:
Increased blood flow
Reduction in swelling
Calmness
Reduced muscle pain, tightness & spasms
Lymph drainage
Reduction in stress headaches
Increased blood flow
Stress reduction
Reduced fatigue
Increased healing
Centering or balance
Better sleep
Improved digestion
Overall feeling of peace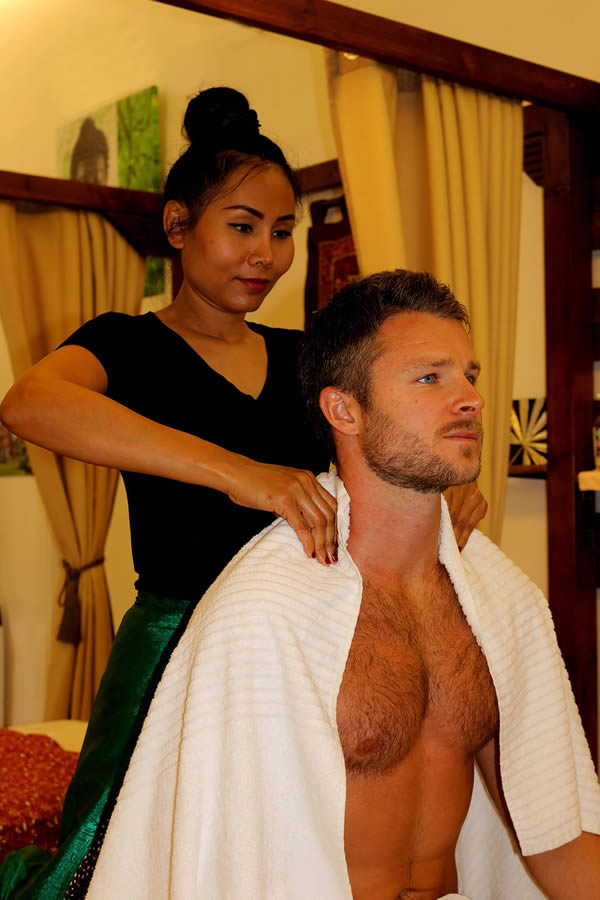 Training to become a Thai Massage Master
It is said that it takes 10,000 hours of practice to become a master of anything and Thai massage is no different, while it may not be necessary to travel to Thailand to master the technique the trip would surely be beneficial in expanding your understanding of movements, chakras, breathing and all other complexities related to the modality.
While there is no "Master" certification granted by a recognized board of massage in the United States in order to practice form of massage as a licensed massage therapist in the US a candidate is required to have no less than 500 hours of classroom guided didactic massage training, 100 hours of in person training on Anatomy and Physiology, 200 hours of training on massage theory and application, 2 hours of massage ethics training, completion of a national background check, passage of a test meant to demonstrate your mastery of topics and application for licensure.
Other Names for Thai Massage:
Nuad Bo-Rarn translated as the "Ancient Healing Way"
Yoga Massage
Bangkok Style
Northern Style – refers to the region of Thailand that Thai Massage originated
Lanna Style – Lanna is a northern region of Thailand